Hysincere Battery 2023 Poland (Poznan) International Renewable Energy Exhibition (green POWER) will be held at the Poznan International Exhibition Center on May 16-18, 2023;
  Renewable Energy Poznań is the largest exhibition in the field of renewable energy in Poland. Each session provides an ideal platform for business negotiation, project investment, technical cooperation and academic discussion for suppliers, distribution agents, end buyers and industry experts from Poland and neighboring countries. At that time, Haixin Battery will participate as scheduled;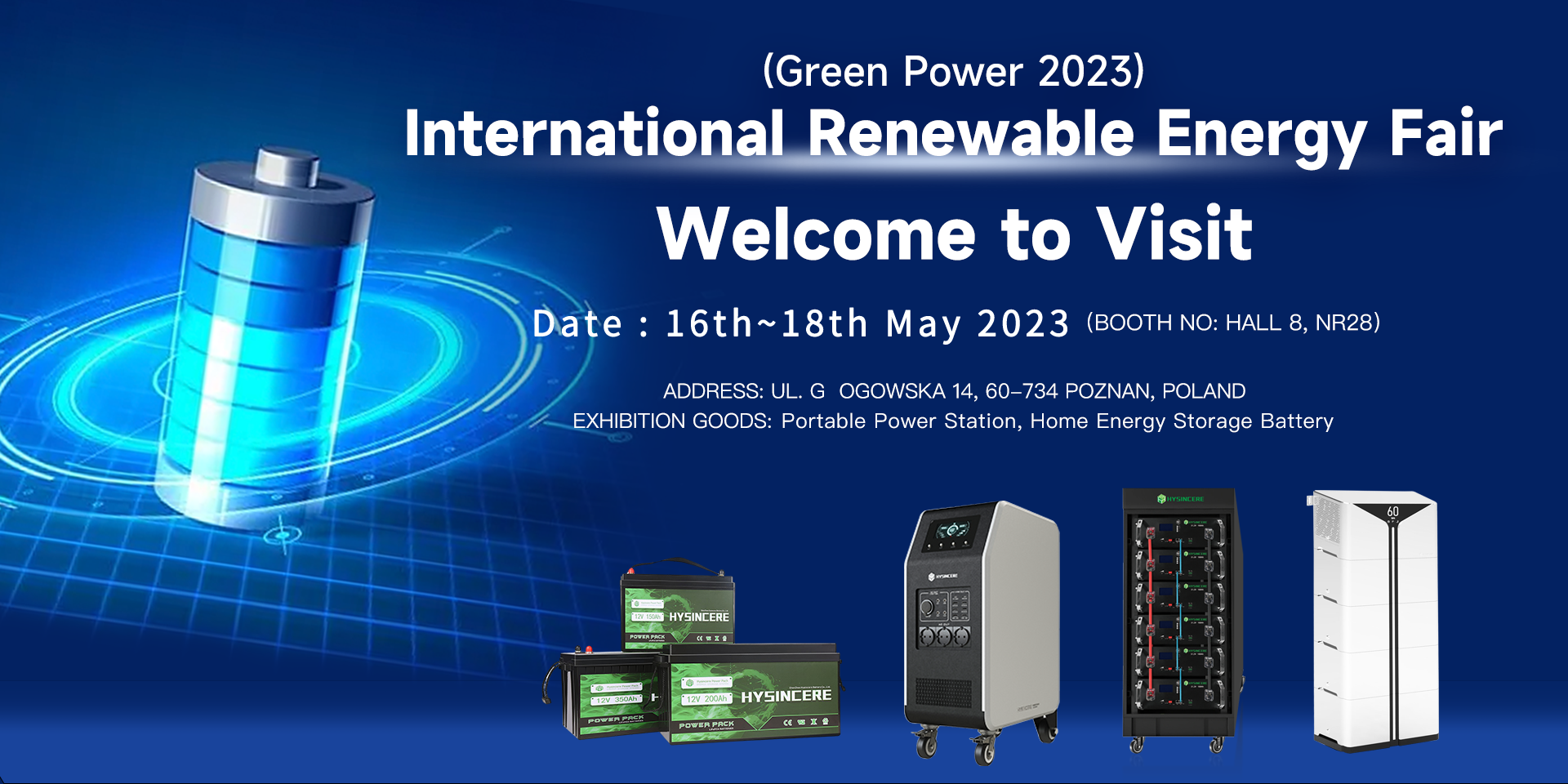 Hysincere Battery Poland International Green Energy Exhibition
  Exhibition time:16-18.05.2023
  Pavilion:Poznań International Fair
  Pavilion address:ul. Głogowska 14, 60-734 Poznań, Poland
  Shenzhen Hysincere Battery Co., Ltd. was established in 2013. It is a lithium battery industrial application solution provider focusing on the R&D, design, assembly, sales and service of energy storage and motive battery packs. The main products include portable power station, lithium replacing Lead-acid batteries, motive battery packs and energy storage systems etc. Hysincere is committed to the sustainable development of global green energy.
  Hysincere strictly follows the ISO9001:2015, ISO14001:2015 and ISO145001:2018 system management requirements, from raw materials to finished products, through professional testing and inspection, scientific and rigorous assembly process, to ensure that each battery becomes a "safe battery". Relying on excellent product quality, Hysincere has passed the certification of many authoritative organizations, and successively passed the certification of KC, PSE, IEC62619, CB, UL, BIS, UN38.3, MSDS, CE etc. and the products had been exported to Europe, America, Australia, Japan, South Korea and Southeast Asia markets. Hysincere has been recognized by domestic and foreign companies.
  It is reported that the total exhibition area in 2022: 10,000 square meters; a total of more than 150 exhibitors; more than 8,000 professional visitors on site; Poznan Renewable Energy Exhibition will be an important platform for Chinese companies to explore Poland and Central and Eastern European markets.
  Market introduction: Poland has become a "dark horse" in the global photovoltaic market
  The data shows that in Poland in the first half of 2022, the average monthly installed capacity of photovoltaic power generation has remained stable at 100,000 kilowatts. Some analysts believe that under this development momentum, Poland will complete the cumulative installed capacity of photovoltaic power generation in 2030 ahead of schedule.
  Distributed photovoltaics are popular
  According to the latest data released by the Polish power grid operator PSE, from January to July, Poland added a total of 961 MW of new photovoltaic installed capacity; as of the end of July, the cumulative installed capacity of photovoltaic power generation in Poland reached 2.26 GW. Among them, the new capacity in the first July of this year accounted for 42.5% of the total capacity.
  Government's efforts to develop large-scale photovoltaic power plants
  Although the distributed market is hot, the volume of this type of project is not large. If the goal of "accumulative installed capacity of photovoltaic power generation reaches 7.8 GW by 2030" is to be achieved, the Polish photovoltaic industry cannot of course abandon the centralized photovoltaic market.
  The China New Energy Overseas Development Alliance predicts that by 2030, about 20 GW of thermal power plants and gas-fired power plants will be closed in Poland, which will promote the increase in demand for centralized photovoltaic power generation.
  GlobalData, an industry data analysis organization, stated that in the context of the spread of the new crown pneumonia epidemic, the market originally expected that the demand for photovoltaics in Poland might decline, but in fact, the Polish photovoltaic industry has maintained a relatively rapid development momentum this year. According to a survey, even in March, when the new crown pneumonia epidemic was severe, the demand for photovoltaic modules in Poland increased by 4 times compared with the same period last year. In the next five years, Poland's photovoltaic industry will develop at the "fastest" speed. By the end of this year, the cumulative installed capacity of photovoltaic power generation in Poland will account for more than 3.5% of its total installed capacity; by 2025, this proportion will increase to 7%.
Read recommendations:
lithium trolling motor battery manufacturer
Clean Vehicle Motive Battery 12V 100Ah 200Ah LiFePo4
Detailed functions and features of battery products
What are the cylindrical lithium batteries?